Juanita Ecker has a Bachelors degree in sociology and a  Masters degree in communication. For the past 20 years, Juanita Ecker was a coach and corporate trainer in professional image and business etiquette. She coached executives on their professional presence and empowered these individuals to make changes in their behavior. Her column, "Image Matters" was a regular feature in the Business Review.
She has published articles in local and national publications; she has been featured on radio and television interviews, and is the author of the book, Image Management: Image & Etiquette Tips for the Business Professional. After leaving corporate training, she was in sales for a few years. And now, she has embarked on a new journey where she can make a difference in the lives she touches. 
A Message from Juanita Ecker

I enjoy square dancing, Sudoku, reading, bicycling, stand-up paddle boarding, and snow shoeing. I am someone who really loves costume jewelry. I have been married to the same man for over 30 years. My husband and I love to travel and get a kick out of tasting new foods when visiting another country. I love to cook and try new recipes. And, I enjoy spending time with the grandchildren, especially at the beach.
I am passionate about helping others. A few years ago, I discovered the power of EFT, (Emotional Freedom Techniques) a tapping technique that reduces stress and calms the nervous system. Recently, I was introduced to the Emotion Code and Body Code System.  A friend asked me if I would like to try it; I was blown away with the results I was having.  I decided to advance my skills  and go for certification. Learning and applying EFT and the Body Code System has been life changing for me.
I have suffered with back pain for over 40 years.  I spent time addressing the core issues that contributed to my back pain. I uncovered those painful emotions from childhood that I didn't want to feel. Like many of you, I grew up in an environment where expressing how you feel was frowned upon. So, I shoved them down into my body. Once I released those trapped emotions, my back started feeling better. I was thrilled. I no longer have the back pain that was my constant companion all those years.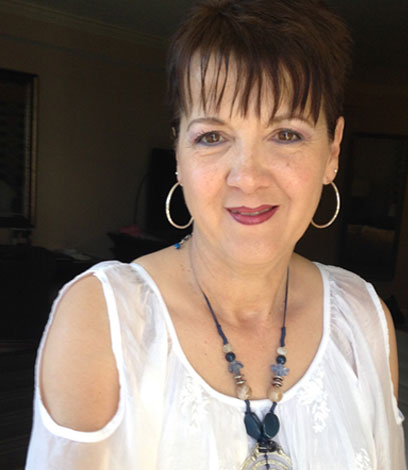 Skills and Qualifications
Juanita Ecker is certified as an Emotion Code and Body Code practitioner from the team at Discover Healing. I am certified in Clinical EFT from the EFT Universe.  I am trained in meridian muscle testing by Dr. Teshna Beaulieu, D.C. I have completed the Optimal EFT Training Course and the Steps Towards Becoming the Ultimate Therapist Program with Gary Craig, the founder of EFT.   I have completed the advanced EFT practice, intensive class, with Dale Teplitz, and an additional advanced EFT practice intensive class with Jan Watkins.
Juanita Ecker is a

Body Code, Emotion Code, and EFT practitioner.

I am not a licensed counselor, psychologist, or psychotherapist. I am not qualified to treat mental illness or diagnose any medical condition.  Some of the strengths I bring to your session include: I know how to address the problem, I am good at doing detective work,  I know how to go deeper, I am skilled at asking the right questions, I know how to get effective results and am good at testing our work. When you work with a skilled practitioner like myself, the energy shifts sooner, the emotional release comes quicker and your life changes faster. I would welcome the opportunity to work with you.